Continuous InkJet Printer
Versatile and cost-effective inkjet coding and marking solution suitable for nearly every application. Using world-class technology, the GIR is built keeping the working conditions in Indian factories in mind.
Ease of use
Designed to be easy to use for operators of all skill levels. New operators can start using the inkjet coding printer in a matter of hours -instead of weeks.
IP 65 rated
Rugged construction of the inkjet batch coding machine runs reliably even in the harshest conditions.
Minimal maintenance
Packed with innovative features that minimize maintenance requirements and downtime.
Local language printing
Increase sales, minimize warranty claims and future-proof against regulatory changes by printing in the language your market is the most comfortable with.
Lowest cost of ownership
With the most competitive consumables pricing and all-inclusive maintenance contracts, cost of ownership remains under control and within budget.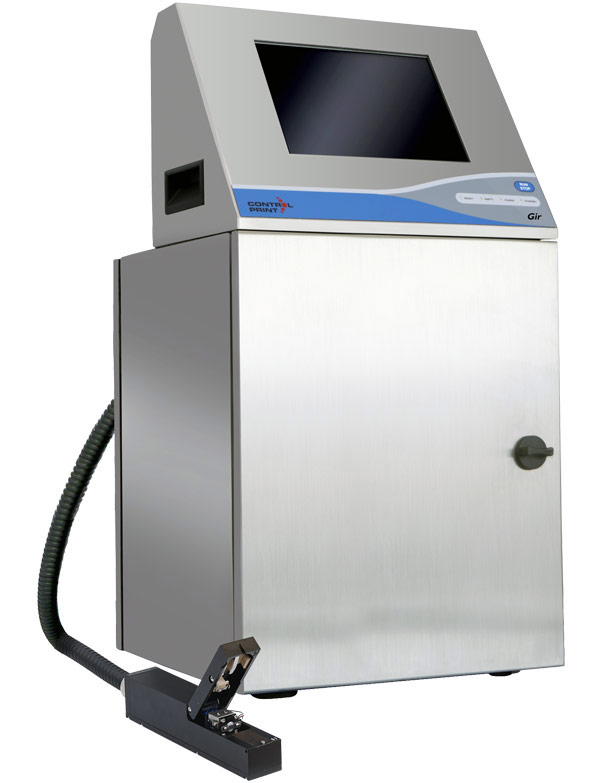 Operators learn in hours, not weeks
The GIR shines in situations where operators change frequently and may not have the necessary technical skills to operate complicated equipment. It includes many groundbreaking usability features that enable new operators, including semi-skilled and unskilled operators, to start using the machine in a matter of hours, instead of days and weeks.
Large, Solvent-Resistant Touchscreen With Icon-Based User Interface
The GIR features a large, solvent-resistant touchscreen and an icon-based user interface. Anyone who has used a smartphone will be immediately familiar with GIR.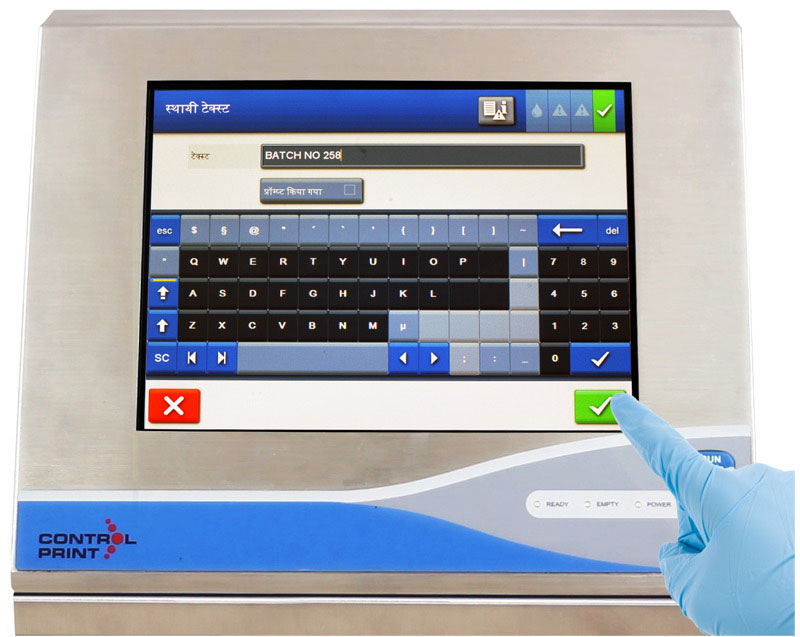 Interface Available In Major Indian Languages
India is a land of many tongues. Asking workers in various parts of the country to operate the printer in a common language is simply not feasible. We designed the GIR keeping India's lingual diversity in mind.
The GIR interface is available in all the major regional languages of India. This allows the operator to truly understand the machine instead of simply memorizing a sequence of buttons. It significantly cuts down on operator errors.
Graphical user interface available in major regional languages helps the operators to truly learn the machine - instead of memorizing a sequence of buttons. In our experience, this reduces operator errors by 68%.
IP 65 rated, rugged construction
Runs reliably even in harsh conditions and able to meet even the strictest of hygiene standards
Heat, dust and humidity take their toll on delicate equipment. The GIR is engineered to thrive in even the harshest conditions.
This industrial grade construction also makes GIR suitable for food, beverage and pharmaceutical industries with strict hygiene standards requiring CIP (Clean in Process) and SIP (Steam in Process) compliant line equipment.
To boldly go through water and dust...
Dustproof
Positive air pressure prevents outside air and dust particles from contaminating the ink stream and clogging the printer.
Waterproof
GIR's waterproof construction allows it to be hosed during regular line wash down.
Heat/cold resistant
Machines delivered to hot or cold environments are equipped with protections to enable reliable running.
Flameproof
When flame-proofing is required the machine is housed in protective casing that's pressurized to prevent outside air and flammable chemicals from entering.
Aseptic stainless steel surface
Aseptic stainless steel surfaces remain germ-free and meet even the strictest hygiene standards.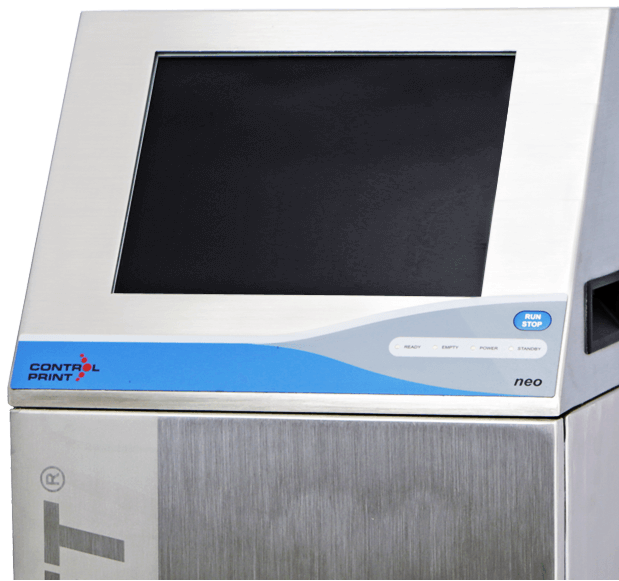 Minimal maintenance and downtime
Packed with innovative features that reduce maintenance requirements and minimize downtime
Machines require regular maintenance to work reliably. With the pressure of many lines and long production hours, proper maintenance procedures are not always followed, which can lead to unnecessary line downtime.
We designed GIR to automatically take care of many crucial maintenance tasks, so that it continues to run efficiently even if operators occasionally fail to follow proper procedures. Together, these features save around 30 minutes of maintenance time (and line downtime) a week - or a whopping 26 hours a year.
Reduced maintenance and line downtime equate to 3 extra shifts a year
Nozzle Shutter Prevents Ink Drying
When the printer is not in use, ink dries on the print head. This then has to be cleaned during startup. Control Print has developed an innovative nozzle shutter that perfectly seals the nozzle during shutdown and prevents ink drying. Thus you are assured of smooth printer startup and shutdown with minimal printhead cleaning required.
Innovative printhead construction for rapid cleaning
When the print head eventually needs to be cleaned, a flap on the GIR makes it as easy as possible. In other continuous inkjet printers, this is a time-consuming process requiring your operators to detach and disassemble the print head before it can be cleaned. In the GIR CIJ the process is as simple as opening the flap, spraying solvent and wiping the print head clean: no time-consuming and error-prone reassembly required.
Print quality often suffers if the reassembly and alignment is not done properly, or done by operators without sufficient technical skills, wasting even more time.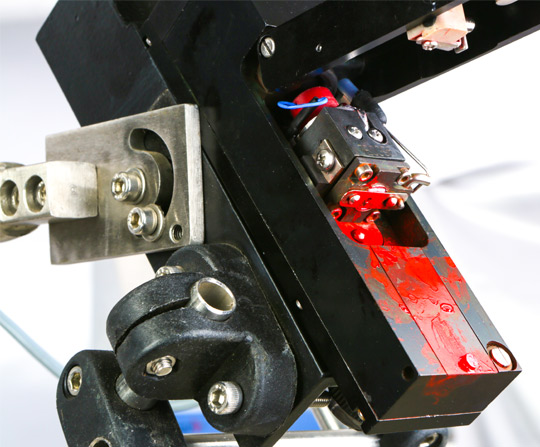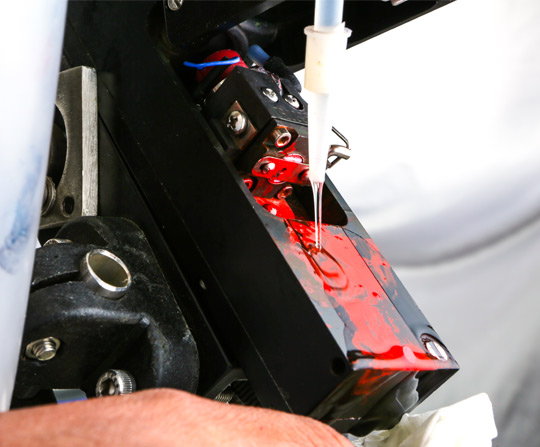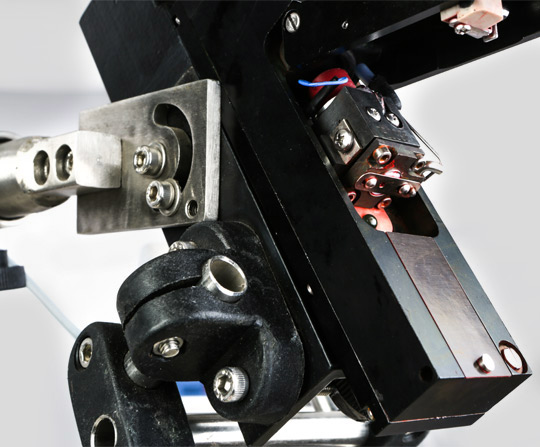 Step 3: Clean with soft cloth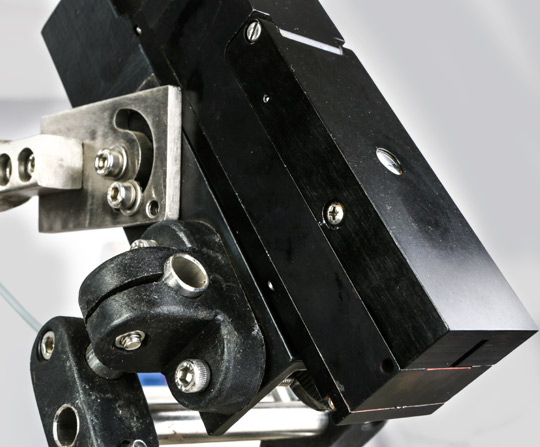 Step 4: Close the flap and resume printing
Printhead cleaning takes 30 seconds and does not require disassembly
In-built battery ensures proper shutdown in power outage
If the power is cut when the machine is in operation, ink starts depressurizing and clogs the printhead, requiring cleanup during the next startup. In-built battery ensures the printer goes through proper shutdown procedure and smooth startup the next time.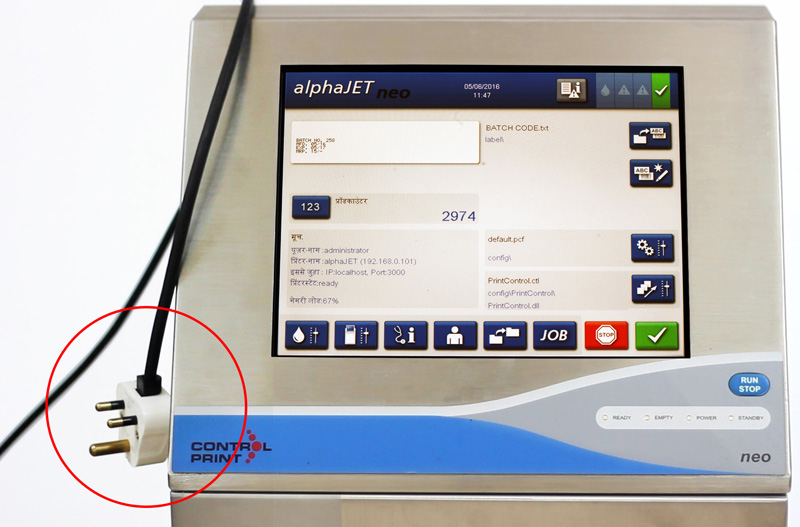 Quickly troubleshoot and fix print quality issues with stroboscopic magnifying glass
An integrated stroboscopic magnifying glass monitors allows operators to quickly check drop formation and troubleshoot print quality issues even when the printer is running.
Automated error diagnostics
In the case of a printer problem, automated error diagnostics displays an error code that pinpoints the exact problem. Reference this code and our engineers can fix most problems over the phone.
Automated nozzle cleaner
Automated nozzle cleaner clears minor impurities and prevents the printhead from clogging. Together with the automated nozzle shutter, this significantly reduces the need for operators to clean the printhead.
Automated stirring mechanism
When the printer is not running, the inks settle down and clog the ink container. Automated stirring mechanism stirs the ink every few hours and prevents the ink from drying when the machine is not in use. This ensures the printer is ready to go at the next startup.
Increase sales, reduce warranty claims and future-proof against regulatory changes
With more than a billion Indians and South Asians but less than a million with English as their first language (and even today less than 10% who can read English versus 75% who are literate), English is clearly not the sole language of choice to reach the widest possible target audience. The GIR allows you to code in the language of your choice. Whether you need a local or international language, you will have plenty of options.
Future-proof
State governments or The Centre may mandate printing of important codes in regional languages. With GIR, your business is future-proofed against such regulatory changes.
Improve sales
Improve sales and boost brand recognition by printing in language people are comfortable with.
Reduce warranty claims
Reduce warranty claims by printing usage information and cautions in language workers understand.
Competitive And Stable Consumables Pricing Ensures Your Running Costs Remain Stable And Within Budget
We believe in creating long-term relationships and repaying the trust placed on us by our customers. We price fluids and other consumables fairly and don't constantly increase prices. This results in stable and predictable costs for our customers.
Ink price development over time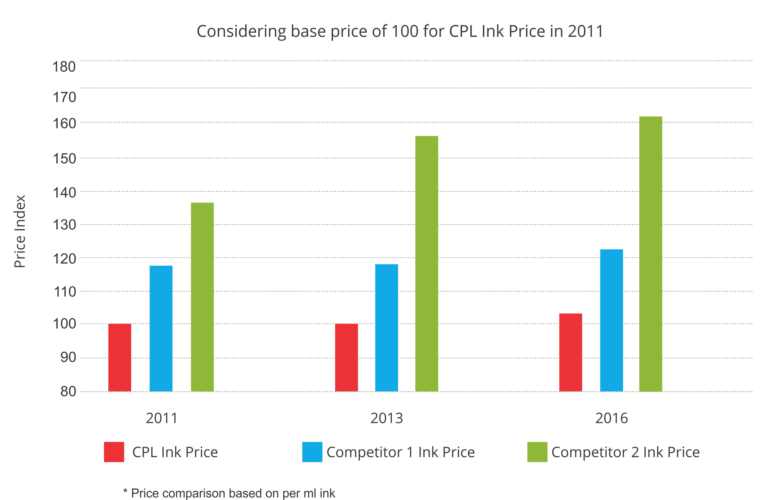 Fair pricing
Our consumables and spares are priced significantly below market average.
No exchange rate fluctuations
Our locally manufactured inks are protected against exchange rate fluctuations.
Stable prices
Over the last five years, our fluids and consumables prices have increased significantly less than the market average.
Savings in ink costs vs. nearest competitor
Annual savings in ink costs vs. nearest competitor
*Considering 24 hours (300 working days) of operation and printing 30 characters 5 by 7 matrix at the speed of 100 products per minute for customer having 10 printers.
With our training you won't need us, but we are there when you do
Preventive maintenance is the key to reliability. Our operator training is focused on teaching the proper usage and maintenance procedures. Furthermore, our service engineer will visit your factory 2 to 4 times a year for a thorough cleaning and checkup.
40% of breakdowns result from preventable operator errors
Anywhere – Anytime Service
And if something unexpected happens, we have over 200 service engineers stationed in 65 cities around India. This ensures we are able to guarantee each service call is attended to within 24 hours.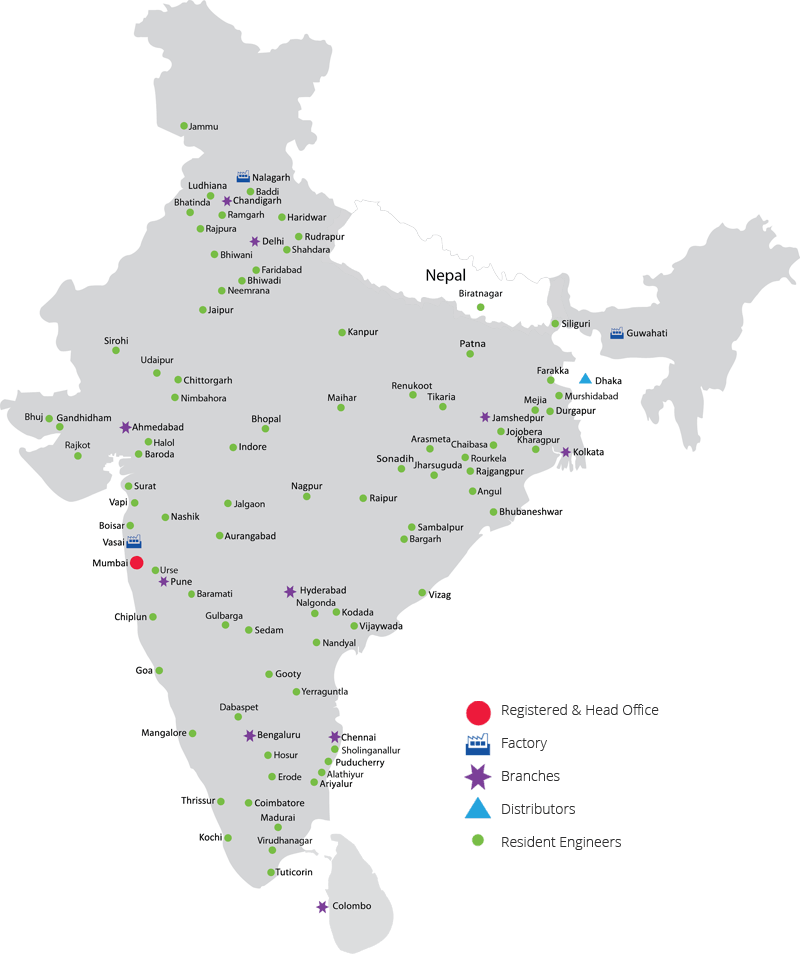 Inks For All Possible Applications
With ink range is 4 to 5 times greater than our nearest competitor, we are confident we can meet all of your printing requirements, no matter how difficult.
Dozens of different colors
Food and pharmaceutical safe inks
Heavily pigmented inks for printing on dark substrates
Inks formulated for untreated plastic, glass and other nonabsorbent surfaces
Oil resistant inks
Heat resistant inks
Special rubber and tyre inks
Ultraviolet inks
Thermocromic inks
Print small or go big – All with one printer
GIR has the industry's largest print height range, from 0.8mm microprint to large and bold 20mm. All in the same machine. All as standard.
Print several lines of text while meeting statutory 4 or 6mm print height requirements.
Print bold and clearly visible logos that stand out from the crowd.
Seamlessly switch from 0.8mm microprints to bold 20mm print in the same machines.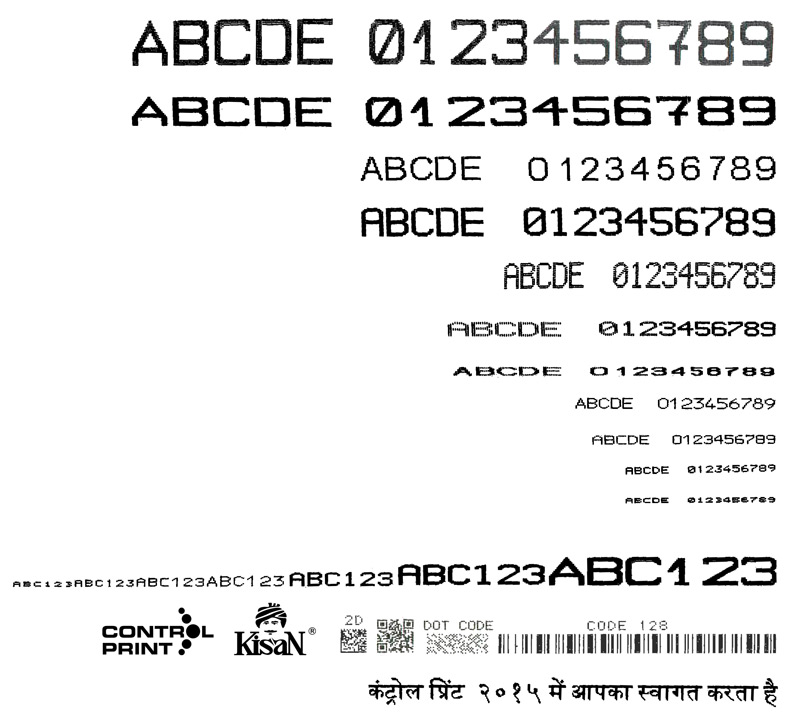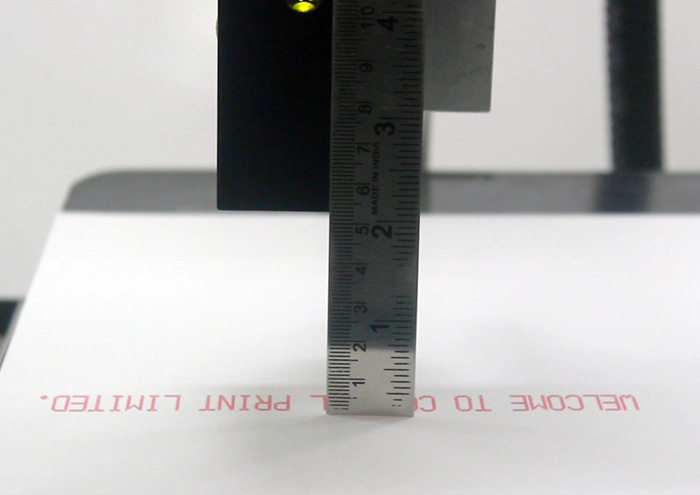 Industry-leading print performance
50 mm throw distance – Perfect print in any line configuration, and even on curved or irregular print surfaces.
Speeds up to 600 m/min – The GIR can keep up with even the fastest of production lines.
Print capabilities
Standard print capabilities include:
Complete range of fonts and logos
Bar and data matrix codes (Barcode/Data Matrix/QR Code/Dot Codes)
Automatic date & time functions
Numbering and text-list functions (Text List & External Text Feature)
Over Print Suppression & Flight Time Compensation (OPS/FTC) as standard feature
0.8 – 20 mm print height
32px resolution with 1 to 5 lines of text
Unlimited print length (Practically Unlimited Print Length)
Easy line integrations
With compact footprint and the smallest printhead in the industry, GIR is easy to integrate even in tight spaces. 50 mm throw distance simplifies integrations where bottom-up printing is required.
The GIR CIJ is compatible with a variety of communication interfaces like Ethernet, USB and RS232. They can also be controlled using 4-color signal beacon, digital input/output port or a remote socket.
Our advanced in-built software allows direct communication via camera or data matrix barcode scanner.