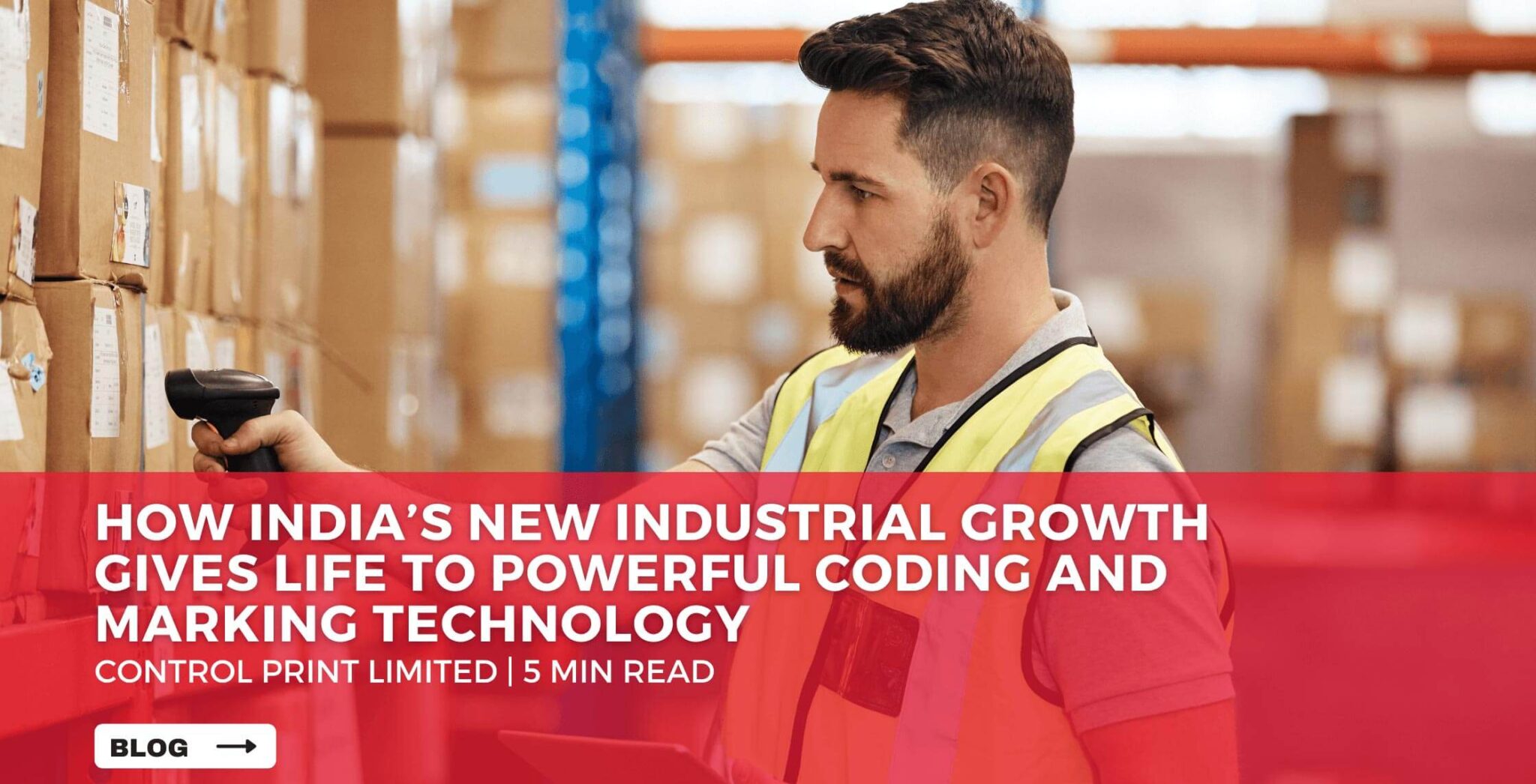 According to research by P&S Intelligence in February 2022, the Indian coding and marking systems market generated $42.7 million in 2021. It is expected to reach $127.6 million by 2030, registering a CAGR of 12% during 2021-2030 (forecast period), primarily because of the stringent government regulations on product labelling and increasing traceability requirements across industries.
One of the major factors driving the market is the country's expanding manufacturing, packaging, pharmaceutical, fast-moving consumer goods (FMCG), and food and beverages (F&B) industries.
India's packaging industry has been flourishing because of the increasing use of innovative packaging, particularly flexible packaging and is attributed to the growing middle-class population and evolving rural markets. The growth of the online shopping and food and beverage industries has also propelled the packaging industry.
Furthermore, the increasing application of coding and marking equipment in the pharmaceutical sector to prevent the loss of medication during transit and ensure the safety of medicines is driving the market growth in India.
How did COVID-19 impact the Indian coding and marking systems industry?
The COVID-19 pandemic affected India's coding and marking systems industry in different ways. Due to the deceleration in manufacturing activities caused by the COVID-19 outbreak, the demand for these machines had decreased. Due to the widespread usage of these systems in automotive components, electrical equipment and chemical packaging, their use saw a slight dip in the first half of 2020. However, the market is recovering with the increasing demand for well-packaged food and beverage products, cosmetics, and personal care commodities.
The pandemic has led to increased demand for proper packaging of products previously marketed as basic or essential items. As a result, these sectors' growth led to a heightened need for coding and marking systems in India.
What are the typical applications of coding and marking systems?
Coding and marking technologies have many applications in industries, including FMCG, food and beverages, automotive, electronic products, extrusion, plywood, metals, rubber, textile, chemical and agrochemical, seeds, construction, healthcare, and pharmaceuticals.
These coding and marking systems provide product-related details on the packaging, including batch number, price, and manufacturing and expiry dates. Coding and marking allows for the identification and tracking throughout the production process of the components and helps authenticate and trace products throughout the supply chain. Because of the strict government regulations in India regarding the provisioning of all vital information of a product's packaging, growth in various industries has prompted the use of coding and marking systems.
India's current coding and marking systems industry have been dominated by the FMCG sector for quite some time now. The food processing industry plays a vital role in India's economy because of the wide range of food products that the nation produces and processes for domestic use. As a result, the growing demand for healthier, packaged food and increased urbanisation is leading to an increase in the consumption of these products, which is driving the need for such equipment in the FMCG sector.
What are the top coding and marking systems available in India?
Continuous Inkjet (CIJ), Thermal Inkjet (TIJ), Thermal Transfer Overprinting (TTO), Laser Coding and Marking, Print and Apply Labelling, and Drop on Demand (DoD) are the leading technologies manufactured by Control Print Limited in India.
By 2021, the continuous inkjet (CIJ) category held the largest share of the market due to its high-speed printing, ability to print on any surface, continued operation with minimal servicing requirements, low-cost printing, and ease of use. Furthermore, the growing usage of Thermal Transfer Overprinting (TTO) printers on the primary and secondary packaging of processed foods, FMCGs, pharmaceuticals, and many other products is driving India's proliferation of coding and marking systems.
What is the Indian government's role in the coding and marking systems market growth?
With the commission of strict government regulations, a heightened degree of regulatory compliance in the requirement of precise and detailed product information, and an increase in the need for traceable products are facilitating the Indian coding and marking systems market growth. For example, the Food Safety and Standards (Organic Foods) Regulations, 2017 of the Food Safety Standards Authority of India (FSSAI) mandates manufacturers to have the 'Jaivik Bharat' logo on their products.
Pharmaceutical companies are creating a high demand for these systems due to the burgeoning usage of packaging to ensure product safety, increasing proliferation of blister packaging, and increasing awareness about the printing of drug information on the packaging.
Medical device manufacturers require proper packaging, coding, and labels for their products in the healthcare sector. This industry is strongly mandated to identify and code products according to the device trials, approvals, and intended usage. Manufacturers are required by law to code directly onto the product, package, or both.
According to India's Central Drugs Standard Control Organization (CDSCO), manufacturers of medical devices must label the outer covering of the packaging along with a unique batch number. Furthermore, every product manufactured in the country must carry on its label the license number under which it is manufactured and a figure representing the manufacturing license number.
Digital coding and marking systems take over the Indian market
India's current coding and marking systems market is witnessing the replacement of analog coding with digital variants. As the Industrial 4.0 revolution continues, the automation of traditional manufacturing operations is becoming increasingly common. Manufacturers must mark, label, and code various products and shipments without slowing down their production processes. They use multiple methods to effectively identify products, pallet loads, devices, components, containers, and freight. Thus, the growing usage and demand for affordable digital coding and marking technologies provided by industry leaders like Control Print Limited has rendered analog technology obsolete.
Related Topic: The future of India's coding, marking and labelling industry | Joint Managing Director, Shiva Kabra's interview with IIFL Securities
Conclusion
The market viewpoint for coding and mark­ing systems is quite positive as their production volumes are anticipated to rise in the coming decade since India has the potential for becoming a global manufacturing hub.
Nowadays, brands consider packaging an essential part of communicating to consumers that hygiene has not been compromised, safety has been prioritised, and product quality and counterfeit protection is assured. India's coding and marking systems market is anticipated to grow faster due to the growing demand for traceability and authenticating products in an age distinguished by counterfeit goods, especially in the pharmaceutical industry.
Furthermore, India will soon become a significant coding and marking systems market due to its enormous populace and manufacturing needs. As a result of these developments, industry leaders like Control Print are heavily investing in scaling up operations, which is expected to expedite the growth of the coding and mark­ing systems industry.
India's leading manufacturer of permanent coding and tamper-proof marking systems
The state-of-the-art coding and marking systems from Control Print in India are built to last in the harsh manufacturing and processing environment of automotive, metals, chemicals, glass, wood, rubber, plastic, etc. Our highly reliable and easy to use equipment also dominate advanced coding assignments required in the pharmaceutical, FMCG, and food and beverage (F&B) industries for branding, labelling, variable product information, traceability, quality assurance, counterfeit protection, and packaging.
In addition to the coding and marking systems, Control Print manufactures and supplies a wide range of ink and consumables for marking applications across India.
For more details, write to [email protected] or call +91 8097466782 to book a demo.
Coding and marking is the method of printing essential product...
Read More