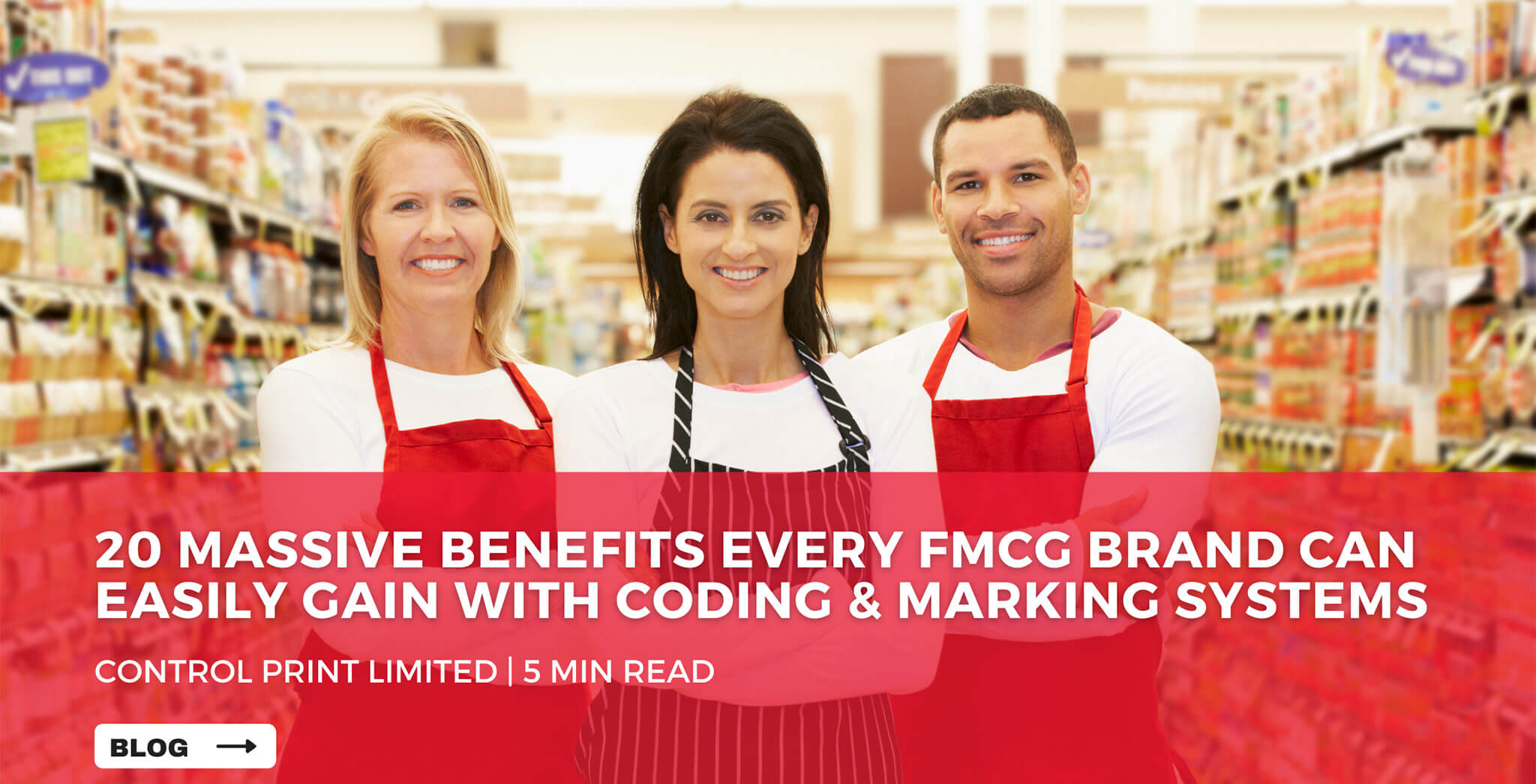 According to the U.S. Census Bureau data, India is the world's second-most populous country, with a projection of 1,389,637,446 people by July 1, 2022. This increase in population is driving the demand for coding, marking and labelling solutions in the country owing to the increasing demand for FCMG products. The FMCG industry enjoys the largest market share in India, primarily due to the heightened demand from food and beverage (F&B) enterprises.
The rising sales of packaged food, bottled water, fruit juices, and dairy products have spurred the growth of the packaged food and beverage (F&B) industry. Fast-moving Consumer Goods (FMCG), also called Consumer Packaged Goods (CPG), is the most extensive group of consumer products that includes durable and nondurable items, i.e., food and beverage, and personal, health and home care products.
Permanent coding and tamper-proof marking systems help solve complex safety, counterfeiting, and traceability problems.
The food and beverage sector is complex, producing various products via different processes from raw material production to packaging and distributing finished goods. The complexity of this process makes it difficult for businesses to keep track of where their product comes from, what its ingredients are, how long it has been around, and so forth. Coding and marking systems help ensure that all these pieces of information are correctly recorded so that they can be easily accessed later.
Strict government regulations concerning products' safety, counterfeit protection, and traceability in the F&B sector have led to an increased demand for manufacturers to correctly display the manufacturing and expiry dates, nutritional facts, ingredient lists, barcodes, batch number, price, and manufacturer's details on products' primary or secondary packaging.
Many types of coding and marking systems are increasingly being adopted by stakeholders in the food and beverage supply chain, i.e., food and beverage producers and distributors, retailers, manufacturers, wholesalers, distributors, and suppliers.
In addition to ensuring that each piece of information about a product is stored accurately, coding and marking systems also provide other benefits. For example, they can make it easier to manage inventory levels, monitor orders, identify theft, and prevent counterfeiting. You can also use them to create branding materials, such as labels or logos, which you can print onto any packaging.
Related Topic: What are the typical applications of coding and marking systems?
20 ways coding and marking systems empowers the FMCG industry in India
The increasing need for accurate product information is especially true in the food industry, where consumers increasingly demand more detailed information about their food choices. Consumers are also becoming more aware of purchasing only authentic branded goods as they believe that these items will be safe and of good quality.
Coding and marking systems help consumers to understand the quality of your products. If consumers want to find out whether your product is good or bad, they need to check the label on the product. They need to know precisely what is inside the package.


It helps consumers understand the origin of your products when you sell or export your products. When you put a label on a product, you can clearly state the product's origins.


It helps to protect your consumers. If someone wants to buy your product, they need to know if it is safe. They need to see if it contains harmful substances like pesticides or heavy metals. It would help to let them know that your products were made in an environment free of chemicals.


Coding and marking solutions enable you to ensure that your products meet all the requirements set by government agencies. They help you ensure that your business complies with local laws and regulations.


They help you in case of recalls. If there is a recall, you can easily track down the source of the problem.


They help you in case of complaints. If someone complains about something wrong with your product, you can quickly identify the product and the supplier.


They help you during inspections. During inspections, inspectors can test product samples and compare them with the codes.


They help you during audits. Auditors can easily access information about your products.


Coding and marking technology allows you to prevent counterfeiting. If anyone tries to copy your products, you can easily spot any tampering.


They help you keep track of your inventory. You can easily track the movement of your products throughout the year.


They help you manage your stock levels. You can easily order more if you run low on any particular item.


They help you control costs. If you have a shortage of any specific product, you can quickly adjust your production schedule.


Coding and marking systems help you monitor your suppliers. If you find out that a supplier has been selling substandard products, you can stop doing business with them immediately.


They help you reduce waste. If you find out a batch of products is not up to the required standard, you can trace and discard the items without wasting time and money.


They help you maintain your reputation. If you do not meet international standards, people will lose confidence in your products.


Coding and marking solutions also help you to build trust with consumers. People will feel safer buying your products because they know exactly what their products contain and that your brand is compliant with international standards.


They help you communicate better and create awareness among your target audience. If you use a coding system, you can easily explain to others how your products work.


They help you improve productivity. If you use a coded system, we can efficiently process orders faster.


They help you increase sales. If you use a unique code for each product, you can quickly market your products and differentiate yourself from competitors.


Coding and marking systems help your customers to choose the right product. Customers can easily see which product suits their needs best.
Challenges faced by the FMCG industry due to inferior coding solutions
Many cheap industrial coding printers in the market claim to provide basic printing but fail to deliver high-quality printing and long-lasting prints on products. Ink is one of the most critical components of an industrial inkjet printing system. The printer must be appropriately coupled with the correct ink for superior print bonding on the product packaging. The permanence of printed labels on food packaging is vital for maintaining food safety.
Since different types of ink are suitable for specific materials, coding printers should be compatible with a wide range of ink options, i.e., solvent-based, oil-based, water-based, pigment-based, or UV visible inks.
During transportation, foods are likely to be exposed to different physical and environmental stresses. Poor print quality is prone to wear off, increasing the chances of the products being discarded. Worse, because production or expiration information is invisible, unclear, or unreadable, the spoiled food products may be mistakenly served to customers, putting their health at risk.
Leaving a permanent mark on the FMCG industry in India
The industrial coding and marking systems from Control Print in India are perfect for fast-paced production lines in the FMCG industry. We offer reliable marking machines from printers to coders and lasers that maximize uptimes and deliver clear, readable markings.
But there's more. We make marking and printing easier for most of the top FMCG brands in India with our easy-to-use software, efficient printers, quick-drying inks and consumables, and nationwide support.
Control Print's coding, marking, and printing systems, application-specific inks, and digitally-enabled solutions are engineered to meet branding, labeling, variable product information, traceability, quality assurance, counterfeit protection and packaging needs in any industry.
For more details, write to [email protected] or call +91 8097466782 to book a demo.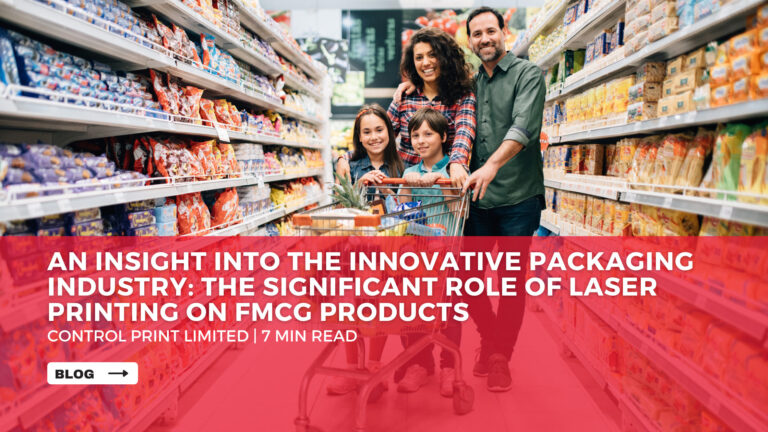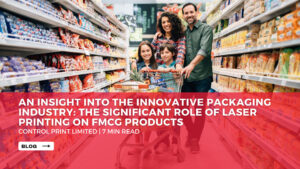 Keeping up with customer demands, cost-effective production, and increasing product...
Read More