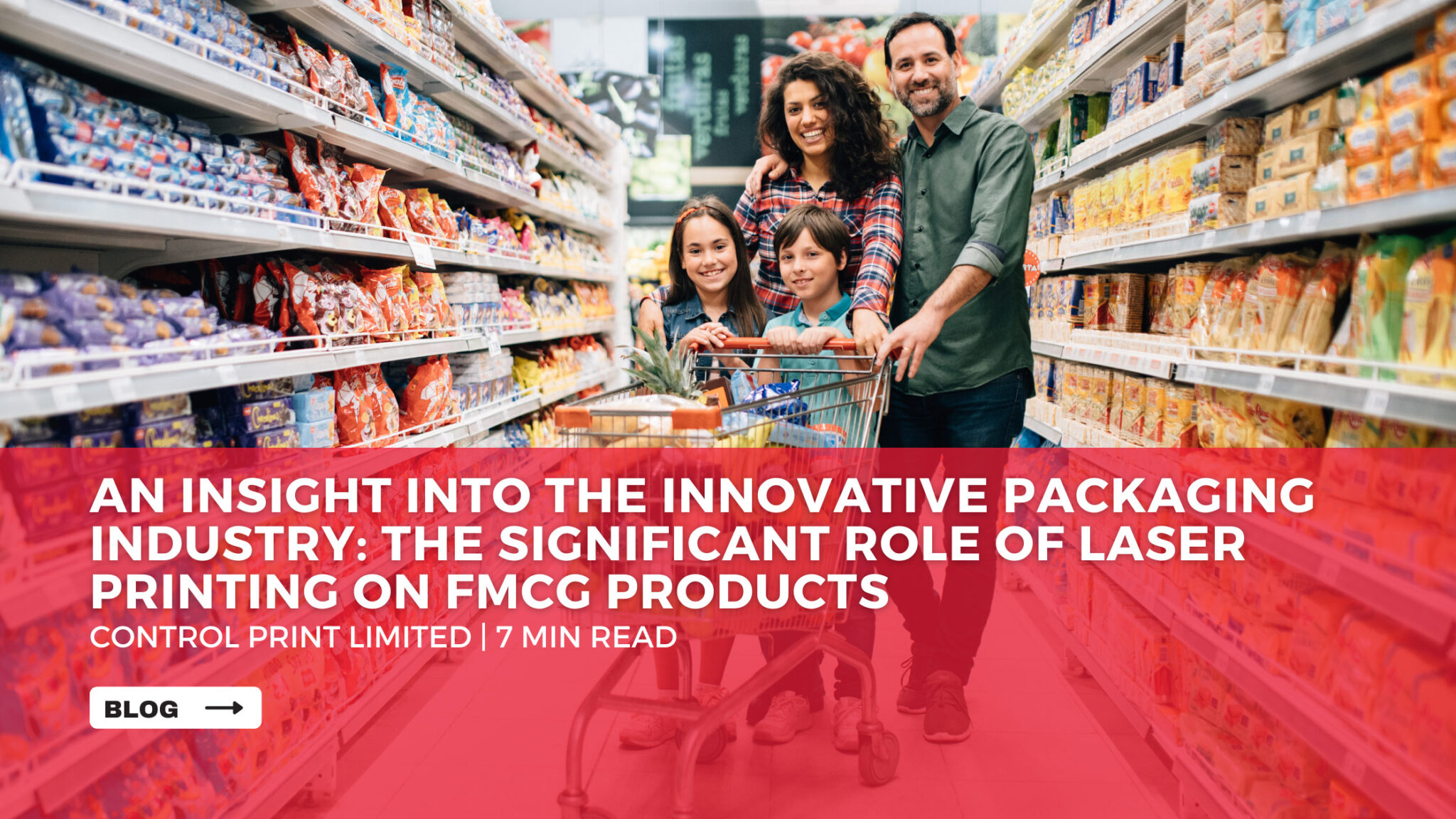 Keeping up with customer demands, cost-effective production, and increasing product differentiation are some of the critical challenges manufacturers face in the food and fast-moving consumer goods (FMCG) industry. The growing demand for online shopping, new-age e-commerce platforms and changing buying habits of consumers have paved the way for innovative product packaging.
Emerging trends such as 'New Natural', 'New Simplicity', 'New Transparency', 'New Sustainability' and 'New Awareness' have increased brand recall and shelf visibility of FMCG products.
Innovative packaging solutions play an essential role in making brands stand out from competitors in the market. Laser printers play a crucial role in this regard through their ability to produce high-quality labels on several different materials.
In this blog post, we'll explore how using laser printers to print on the packaging of FMCG and food products can be a beneficial investment for your business.
Evolving trends in food and FMCG packaging in India
As per a report published by IBEF, the FMCG market in India is anticipated to increase at a CAGR of 14.9% to reach US$ 220 billion by 2025, up from US$ 110 billion in 2020. The growth rate is driven by the growing demand for packaged food and beverages, healthcare, pharmaceuticals, personal care products, cosmetics, household goods, automotive, electronics, and others.
Fast-moving consumer goods (FMCGs) are India's fourth largest sector, with household and personal products accounting for half of FMCG sales. As a result of growing awareness, easier access, and changing lifestyles, the market has seen tremendous growth. The urban segment, which accounts for a revenue share of roughly 55% of total revenues, is the most significant contributor to overall revenues generated by the FMCGs in India. However, in recent years, the FMCG market has grown faster in rural India than in urban India. Rural and semi-urban segments are snowballing, and FMCG products are responsible for half of the total rural spending in India.
With changing purchasing trends, food and FMCG products are witnessing a trend towards healthier, more sustainable and transparent packaging. The food and beverage industry is the largest consumer of packaging in the world.
The Indian packaged food industry is expected to grow to US$ 70 billion by 2025. Rising internet connectivity in cities and rural India is driving the demand for FMCG products and packaged foods through online channels. Despite nationwide lockdowns, the Indian FMCG industry has grown at its fastest pace since 2009 at 16% in FY21, thanks to consumption-led growth and higher product prices.
The role of packaging in the food and FMCG industry
Packaging plays an important role in product differentiation, segregating products based on their uses, improving product quality, assisting in marketing, and increasing distribution efficiency. Furthermore, effective packaging can increase product recognition and brand equity, which helps increase sales.
According to Transparency Market Research, the global market for flexible packaging was valued at US$ 1,851.3 million in 2018 and is projected to reach US$ 2,734.0 million by 2023, registering a CAGR of 5.2%. Flexible packaging is used as a protective barrier between raw materials and the environment and protects against moisture, oxygen, light, dust, chemicals, and microorganisms.
In another study by Mintel, the global market for plastic packaging was estimated to be worth over US$ 200 billion in 2019. Plastic packaging is widely used in the food and beverage industry due to its lightweight properties, durability, recyclability, and low manufacturing costs.
In addition, according to a survey conducted by Euromonitor International, the global market for paperboard packaging is expected to reach $6.5 billion by 2022. Paperboard packaging is mainly used in the food and beverages industry because it offers several advantages, such as being lightweight, durable, recyclable, and biodegradable.
The rising adoption of digital printing and marking technology in food and beverage packaging, consumer goods packaging, and industrial packaging, is propelling the market for laser printers in the food and FMCG segment.
Recommended: 20 ways coding and marking systems empowers the FMCG industry in India
The importance of innovative packaging in the FMCG industry
Packaging plays a vital role in marketing products. It helps in communicating the brand image of the company to the consumers. In addition, it also protects the product from damage during transportation or storage.
The importance of innovative packaging cannot be emphasized enough. If a product looks attractive, it increases the chances of being purchased, and the same goes for food items. Thus, innovative packaging solutions help in increasing the chances of customers choosing your product over those of competitors. Innovative packaging solutions can be used to create new designs and shapes which can attract customers' attention.
The most crucial factor while choosing packaging solutions is that they should be able to effectively communicate the product benefits and essential details to the customers.
Benefits of innovative packaging in the FMCG sector
Innovative packaging is a primary tool manufacturers use to stand out from competitors in this field. With so many companies offering similar products, it's more important than ever for brands to differentiate themselves with their packaging.
Enhanced shelf visibility
Innovative packaging solutions help increase shelf visibility and enhance visibility in the retail environment. This is possible due to the eye-catching designs used in the packaging solutions.
Enhanced brand recall
Another important benefit of innovative packaging solutions is that they help in enhancing brand recall. A customer may not have heard about your brand, but once they see the packaging and likes it, they are more likely to remember it.
Product differentiation
Product differentiation is another important reason why you should opt for innovative packaging solutions. With millions of products available in the market, product differentiation is the only way to stand out from the competition.
Increase in sales
The overall sales of any business will increase once you start using innovative packaging solutions.
Better customer satisfaction
Customers want to buy products that are not only useful but also visually appealing. If you have cleverly designed packaging, customers are likely to be happy with your product and will come back for more.
Laser printing in the FMCG products and packaging segment
Laser printing has been used by companies like Coca-Cola, PepsiCo, Nestle, Unilever, etc., since the 1980s. It has revolutionized the way they package their products. In fact, most of these companies have adopted laser printing as their primary packaging solution. So, what makes laser printing so special?
Laser printing helps by providing precise and high-quality text and graphics on various packaging materials. It is an ideal solution when you need custom printed labels for your products, promotional items, and a wide variety of packaging surfaces, even on curved, irregular print surfaces.
Control Print's modular laser printers function on FIBER and CO2 technology, engineered for robust, high-speed performance to meet the most demanding coding requirements. The FIBER laser printer is designed for printing on metals, laminates, plastics, and cables, while the CO2 laser printer is best suited for paper, cardboard, glass, and plastics. Both variants work well on a wide range of plastics, which is why these laser printers are ideal for industrial and packaging manufacturers in the food and FMCG segment.
Control Print's industrial-grade laser printers enable coding and marking of variable information, i.e., manufacturing and expiry date, batch, MRP, logos, and product information at a 90 mm focal distance.
Industries like FMCG, Food & Beverage, Pharmaceuticals, and Dairy are essentially required to maintain high standards of hygiene. They have to regularly undertake CIP (clean in place), WIP (wash in place) and SIP (sterilization in place) processes. Our laser printers have a protection class of IP54 and IP65 that do not require extra care while undertaking the procedures mentioned above.
Our high-speed laser printers easily comply with current and future trade regulations of printing two lines of 6 mm or three to four lines of 4 mm as per FSSAI regulations and has the flexibility for ever-increasing regulatory and traceability requirements.
As a standard feature, our laser printers allow you to code your products in any language, including foreign and local Indian languages, through logos or fonts up to 20 mm print height.
To explore Control Print's range of laser printers: Click here
What are the benefits of laser printing on FMCG products?
High-quality Print
Laser printing ensures that you get high-quality print on a variety of product and packaging materials, i.e., paper, cardboard, glass, plastic, leather, and metal.
Precision
They are equipped with premium lenses and Vibration Compensation System (VCS®) to ensure high-resolution marking even on high-speed production lines.
Flexibility
Packaging materials are printed through the heat and pressure of a laser printer, which allows you to print on a variety of surfaces.
Durability
The printed materials on which you use a laser printer for packaging are long-lasting. A laser produces prints that last as long as the product itself. It burns through a thin layer of the substrate, creating a print that resists fading, chemicals and contact erosion.
Reliability
The laser printers comply with IP54 and IP65 guidelines, ensuring it stays sealed in dusty and humid environments. It is also cooled via a Reverse Air Flow circuit (RAF®), which keeps the inside free of dirt and dust. The lenses receive a constant airflow that keeps them free from dust and impurities that can distort the marking.
Versatility
The modular system on which the laser printer is based enables it to easily adapt to the needs of every production line or marking type. Its modular design makes it easy to perform tasks like installing lenses, changing heads (Easy Exchange Print heads or EEPs®) and printing on curved or uneven surfaces using 3D printing options.
Safety
With laser printers, no inks mean zero mess or food safety issues to worry about.
Near-Zero Maintenance
Our laser printers do away with inks, pumps, print heads and other parts that demand upkeep, offering you near-zero maintenance. The optics need to be cleaned occasionally, but that's about it.
"The combination of high speed and unbeatable uptime makes the laser printer ideal for capacity-limited industries," says Rajesh Bhor, National Technical Manager at Control Print Ltd.
Key Takeaways
The FMCG manufacturing and packaging industries have undergone many changes in the last few years. The integration of new technologies, coupled with the demand for innovation and customized products, has led to the development of new processes and methods for creating new products. 
Any slight advantage is highly valued in the FMCG industry's highly competitive and fast-paced environment. Companies in this sector have adopted innovative packaging and laser printing systems to remain relevant, compliant, and profitable.
We are witnessing an increasing adoption of laser printers in industries such as food and beverage, cosmetics, pharmaceuticals, and fast-moving consumer goods (FMCG) because of their ability to print detailed designs on small packages or labels on a variety of product and packaging materials.
Control Print's laser printers are perfect for fast-paced production lines in the FMCG industry. We offer reliable industrial-grade printers that maximize uptimes and deliver clear, readable markings to a majority of the top FMCG brands in India. 
Since 1991, our coding and marking systems have been helping manufacturers meet branding, labelling, variable product information, traceability, quality assurance, counterfeit protection and packaging needs in every industry.
For more details, write to [email protected] or call +91 8097466782 to book a demo.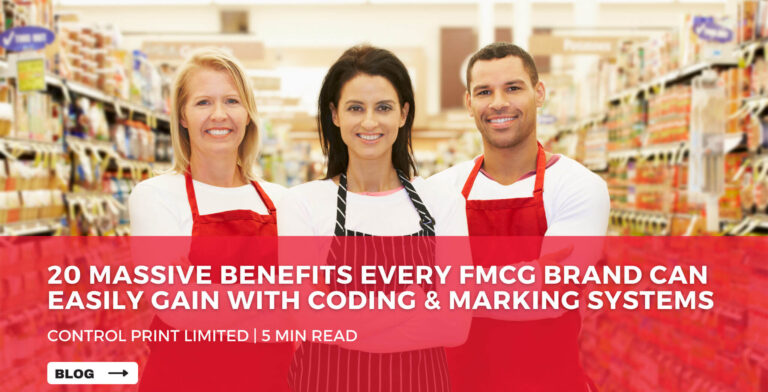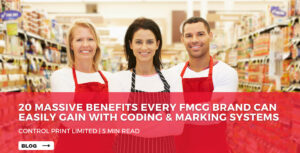 According to the U.S. Census Bureau data, India is the world's...
Read More