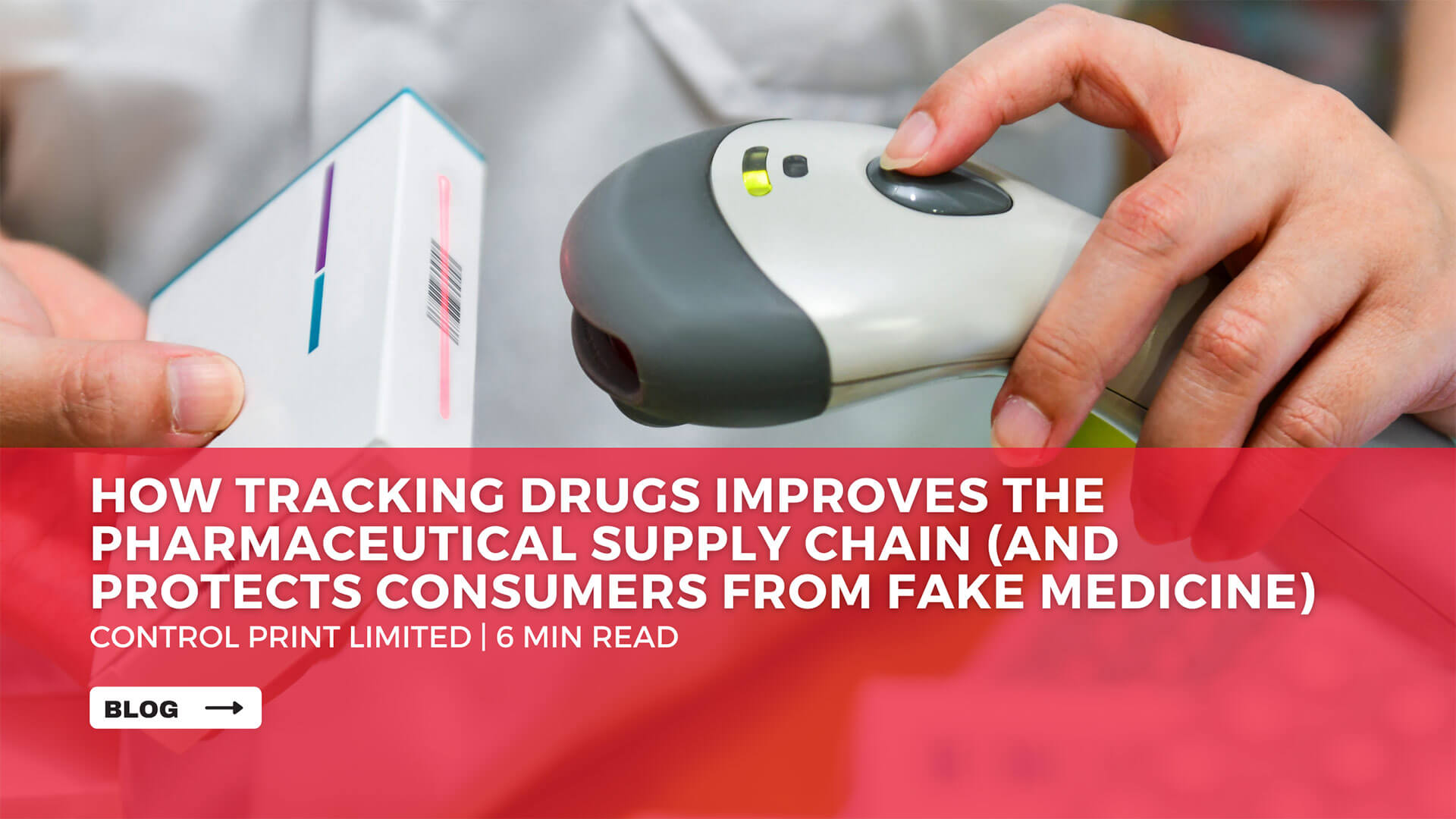 Track and Trace (T&T) systems allow manufacturers to track their products throughout the supply chain, providing valuable information about where they have been, who had handled them, when and how long they were stored, etc. It also enables manufacturers to identify any issues that may arise during transport or storage, such as product damage or contamination.
A Track and Trace (T&T) system is designed to be used by manufacturers in various industries, including food and beverage (F&B), pharmaceuticals, chemicals, cosmetics, personal care, automotive, aerospace, electronics and many more.
India: A brief outline of the law applicable to the pharmaceutical industry
In India, the Directorate General of Foreign Trade (DGFT) made unique numbers and barcodes mandatory on tertiary, secondary and primary packaging for all exported pharmaceuticals. The exporters were to implement barcodes on primary level packaging from July 1, 2013. However, the deadline was expected to be extended considering opposition from the industry.
As per the ministry's notification, the law also requires the incorporation of 2D barcodes (GS1 data matrix) on medicines at the strip/bottle/vial level, as well as encoding GTIN and Unique Serial Numbers by July 1, 2014.
Pharmaceutical companies must deal with challenges originating from supply chain security lapses (resulting in theft, diversion, and product recalls), counterfeiting and stringent regulations. In addition to unsettling safety concerns, these challenges also harm the industry's health by adversely affecting profits, brand credibility and research initiatives.
With industry and governments worldwide realizing the importance of implementing product serialization, it becomes mandatory for all entities within the supply chain to comply with federal and/or state legislation of the countries in which they operate.
Generally, drug distribution systems consist of entities such as manufacturers, wholesale distributors and pharmacies before products reach the end consumer. Ensuring secure product track and trace capabilities across various touch points throughout the supply chain through product serialization implementation is crucial to addressing the challenges faced by the industry. Besides providing visibility and full traceability within the supply chain, successful serialization programs will prove to be a key differentiator and a clear competitive advantage for pharmaceutical companies.
Click here to download a guide compiled by the Legal and Research team at the Infosys Life Sciences Center of Excellence that provides a summary of the legal and regulatory framework proposed by countries including Argentina, Brazil, China, EU, France, India, South Korea, Turkey, and USA (Federal and California) to maintain supply chain integrity and ensure patient safety. This guide also provides information on mandates to be adhered to by various stakeholders to ensure regulatory compliance.
Related Topic: Fighting the issue of counterfeiting in India's pharma industry | Control Print, Joint Managing Director, Shiva Kabra's interview with the Times of India
What are the benefits of using Track and Trace (T&T) in the pharmaceutical industry?
The benefits of using Track and Trace (T&T) in the pharmaceutical industry are well known. The T&T system provides a means for tracking each step in the production process, from raw material to finished product, by marking and tagging each container with a unique identifier at every stage of its journey. There are numerous benefits to using T&T solutions that include:
Ensures compliance with regulations and standards set by the Indian government and National Regulatory Authority (NRA), i.e., the Central Drugs Standard Control Organization (CDSCO) and Ministry of Health and Family Welfare (MoHFW).
Comply with regulatory requirements of different importing countries such as the U.S. Food and Drug Administration's (FDA), Unique Device Identification (UDI) of medical devices regulation, Drug Supply Chain Security Act (DSCSA) requirements, the European Union Falsified Medicines Directive, etc.


Complying with regulatory requirements such as Good Distribution Practices (GDP), an international standard which requires companies to ensure the safety, quality, efficacy, and effectiveness of medicines distributed into the market. Click here to download the guidelines set by the Central Drugs Standard Control Organization (CDSCO) in a notice circulated by the Drugs Controller General (India), Directorate General of Health Services, Government of India.


Provides traceability of the entire supply chain, ensuring accountability and transparency.


Improves inventory management and control while reducing the risk of recalls due to incorrect labelling or packaging.


Ensuring that the products you distribute are safe and of high quality.


Being able to trace the source of your products.


Helps prevent counterfeit drugs and drug diversions.


Ensuring products have been manufactured according to Good Manufacturing Practice (GMP) standards.


Allows for a more consistent product that is free from contaminants or impurities.


Reduces waste and costs associated with processing raw materials.


Reducing the risk of product liability claims.


Provides evidence for legal claims.


Increases shelf life of products as they can be traced back to their source.


Improves your brand reputation.


It improves customer satisfaction when customers know where their products come from.


Enhances visibility of the products and helps improve customer service.


Facilitates efficient delivery of products to customers.


Increases sales by providing a greater sense of trust and security to consumers.
Top printing and marking systems implemented in the pharmaceutical industry across India
Widely trusted coding and marking solutions in India's pharmaceutical industry by application for cartons and outer packaging, labels and bottles, tubes, capsules, strips, and blister packaging is the Continuous Inkjet (CIJ) Printer, Laser Printer, Thermal Inkjet (TIJ) Printer, and Thermal Transfer Overprinting (TTO) Printer.
In the orals and injectables category by application for glass vials, ampules, pre-filled syringes, and single-dose medications, the highly recommended marking solutions are the Continuous Inkjet (CIJ) Printer, Thermal Inkjet (TIJ) Printer, and Thermal Transfer Overprinting (TTO) Printer.
In the nutraceuticals, supplements and OTC category by application for labels and bottles, sachets, flexible packaging, tubes, cartons, strips, and blister packaging, the most reliable printing solutions are the Continuous Inkjet (CIJ) Printer, Thermal Inkjet (TIJ) Printer, and Thermal Transfer Overprinting (TTO) Printer.
In the medical devices category by application for syringes, bags, flexible material, and direct on a device, the most dependable coding solutions are Continuous Inkjet (CIJ) Printer, Thermal Inkjet (TIJ) Printer, Thermal Transfer Overprinting (TTO) Printer, and Laser Printer.
What happens if pharmaceutical companies do not implement Track and Trace (T&T)?
More and more, pharmaceutical companies that don't implement track and trace are taking a great risk by not doing so. You can face heavy penalties and even prison time, lose your license to sell drugs and be banned from lucrative markets.
For example, the EU's Falsified Medicines Directive (FMD) is crystal clear, "If there is no data or wrong data, then there will be no sale".
In the US, wholesale distributors cannot buy products that aren't serialized or traceable. Manufacturers and repackers risk losing their licenses if they don't serialize their products and start using T3 data (transaction history, transaction statement, and transaction information). If dispensers accept and sell products without serial numbers and T3 data, they face similar risks.
For more information about what countries require for "track and trace" for pharmaceuticals, download the "Worldwide Pharmaceutical Compliance Requirements 2022" white paper by RFXCEL (Antares Vision Group).
It's always smart to stay current with regulations, changes, and deadlines, so it'll be the wise company that takes the time and effort to keep up with them.
Standard applications of Track and Trace (T&T) systems in the pharma industry worldwide
Here are some examples of where T&T can be used in the pharmaceutical sector:
Manufacturers can use T&T to verify that they produced each batch of the finished product. This includes verifying that they used the correct raw materials and that the manufacturing processes were performed correctly.
Suppliers can use T&T when sending their products to manufacturers. They can verify if the right products were sent at the right time and check whether they arrived safely.
Consumers can use T&T on their medicines to help ensure they are receiving genuine medicine.
Regulators can use T&T data to assess compliance with regulations. For example, they can use T&T information to confirm that a company's supply chain is safe and secure.
Companies can use T&T technology to monitor the movement of their products through the supply chain. They can use this information to manage inventory levels more effectively, ensuring enough stocks are available to meet demand.
The government can use T&T systems to collect information about medicines that are not reaching patients because they are unsafe or counterfeit.
Medical device companies can use T&T technologies to validate the quality of their products.
Pharmaceutical distributors can use T&T tools to ensure that their customers receive the proper medications at the right time.
Regulatory authorities can use T&T software to check if a manufacturer complies with Good Manufacturing Practice (GMP) standards, ensuring that only high-quality products reach pharmacies and hospitals. According to The World Health Organization (WHO), Good Manufacturing Practice or GMP is a system for ensuring that products are consistently produced and controlled according to quality standards. It is designed to minimize the risks involved in any pharmaceutical production that cannot be eliminated through testing the final product.
Related Topic: What are the typical applications of coding and marking systems?
What is the compliance mandate for pharmaceutical companies in India?
Exporters of pharmaceutical products will adopt a trace and track system and incorporate its features for exported medicines using barcode technology as per GS1 global standards as detailed below:
Primary Level packaging requirement
Incorporating 2D (GS1 Data matrix) barcodes on medicines at strip/vial/bottle, etc., encoding unique product identification code (GTIN) and Unique Serial Number of the Primary pack.
Secondary Level packaging requirement
Incorporating barcodes (1D or 2D) encoding unique product identification code (GTIN), Batch Number, Expiry Date and Unique Serial Number of the Secondary pack.
Tertiary Level packaging requirement
Incorporation of barcodes (1D) encoding unique product identification code (GTIN), Batch Number, Expiry Date and Unique Serial Number of the Tertiary pack (shipper/carton).
Under the track and trace system, manufacturers are mandated to maintain serialized records of exported pharmaceutical products for six months after the product expiry date.
Related Topic: Indian government mandates top 300 brands of drugs to print QR codes on packaging in June 2022.
Conclusion
As the global concern about drug diversions, theft, and counterfeiting increases, governments and regulators are pushing for new laws and regulations to prevent these problems. Pharma businesses should invest in a track and trace system to mitigate supply chain risks, satisfy regulatory requirements, and enhance their bottom line.
Control Print's high-resolution IP65-rated waterproof printers enable printing of a wide variety of traceability codes for maximum regulatory compliance, including printing of GS1 compliant data matrix codes and barcodes for the healthcare industry, i.e., pharmaceuticals, orals and injectables, OTC, Supplements and Nutraceuticals, and medical devices.
Multiple level user access and ability to interface with computer systems ensure compliance with regulations, including Title 21 CFR Part 11. Our printers integrate with most ERP systems and support printing in all UNICODE languages, including all the major languages of the Indian subcontinent. However, customized solutions are available for non-supported IT systems.
In addition to our intelligent printing and marking systems designed for primary, secondary, and tertiary levels of packaging, Control Print manufactures a wide range of non-hazardous inks suitable for pharmaceutical products and medical devices, supported by a reliable customer service network across India. Contact our coding and marking experts by writing to [email protected] or calling +91 8097466782 to book a demo.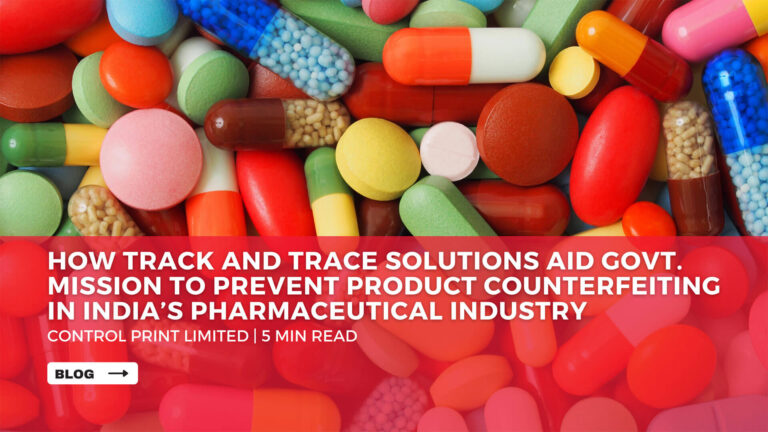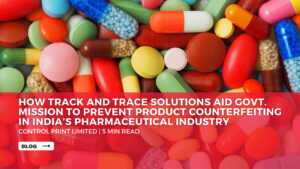 Control Print is India's leading manufacturer of permanent coding and...
Read More