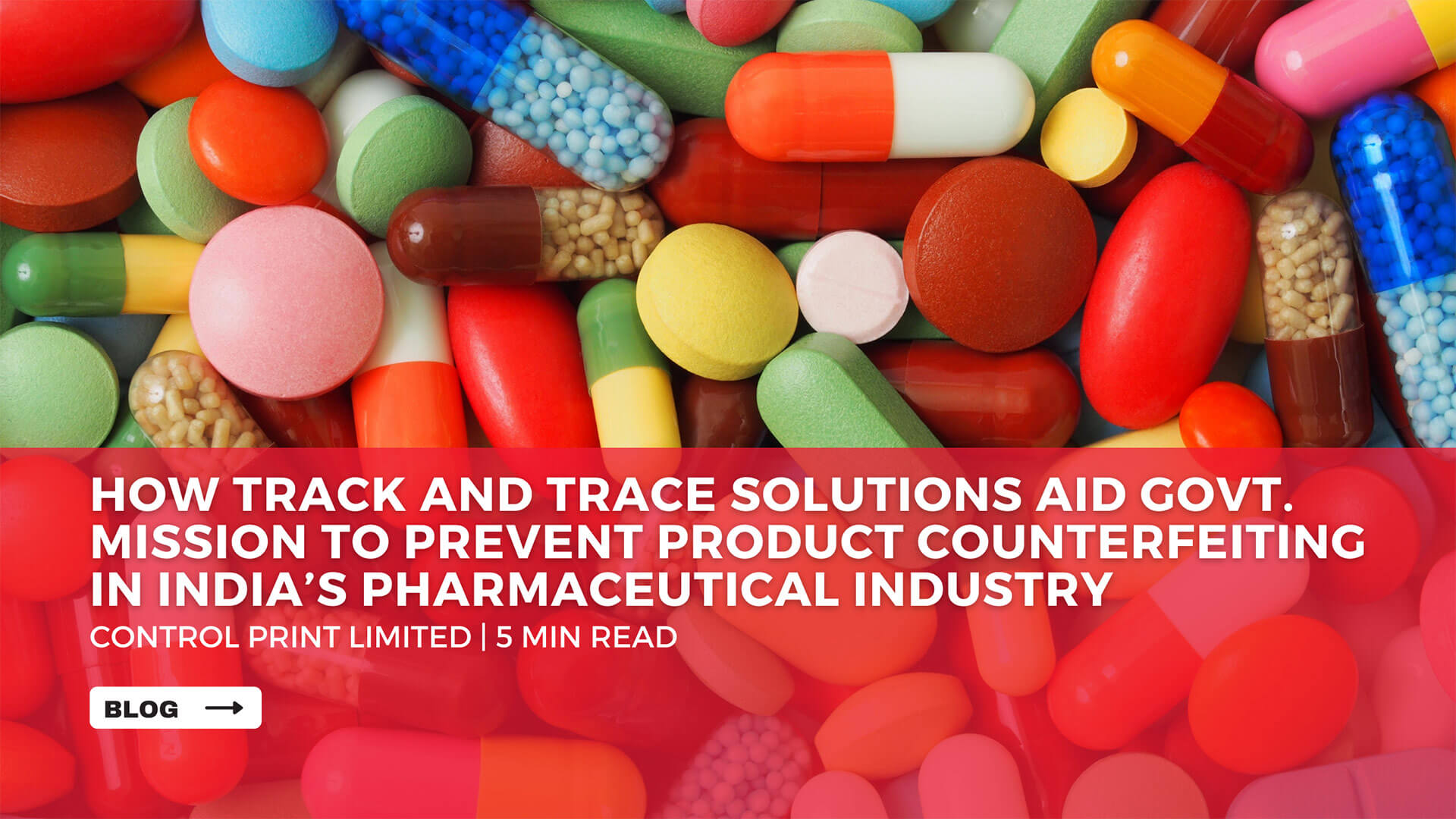 Control Print is India's leading manufacturer of permanent coding and tamper-proof marking systems enabling track and trace for pharmaceuticals for over thirty years. We thought it was a good time to revisit the fundamentals as part of the ongoing nationwide debate about the recent QR code decree in the pharmaceutical industry. Let's take a look.
Indian government mandates top 300 brands of drugs to print QR codes on packaging
Earlier this month, India's drug pricing authority the National Pharmaceuticals Pricing Authority (NPPA) selected the top 300 brands of drugs, including commonly used analgesics, vitamin supplements, pain relievers, anti-platelet medications, blood-sugar-lowering drugs, and contraceptive tablets. The list of brands includes Dolo, Sumo, Saridon Fabiflu, Ecosprin, Thyronorm, Limcee, Calpol, Corex syrup, and Unwanted 72 are now required by the Indian government to add Quick Response (QR) codes to their packages to guarantee origin, authenticity and facilitate track and trace.
A senior government official briefed the media, "The ministry had in March asked the Department of Pharmaceuticals (DoP) to shortlist the top 300 drugs so that we can incorporate the same in the draft notification and make necessary amendments in the drugs rules for its implementation."
The list of the top 300 brands of drugs has been forwarded to India's Ministry of Health and Family Welfare (MoHFW), which will revise the drug laws as required. Earlier this year, the Union Health Ministry declared the guidelines, saying "Every Active Pharmaceutical Ingredient (API) manufactured or imported in India shall bear a Quick Response (QR) code on its label at each level, packaging that store data or information readable with software application to facilitate tracking".
In June 2019, The Drugs Technical Advisory Board (DTAB) had approved the proposal for mandatory QR codes on the Active Pharmaceutical Ingredient (APIs) to combat falsified drugs and sub-standard medical products. Then in July 2020, a high-level panel was set up to build a framework for implementing QR codes on drug packs. In addition, India had also made it compulsory from April 1, 2020, that all medicines procured under public procurement will have barcode/QR code at primary level of packaging.
Currently, pharmaceutical enterprises and lobbying groups have voiced concerns about numerous sets of tracking and monitoring instructions issued by various departments and asked for a single QR code system. However, industry insiders anticipate the new coding and marking requirement to hurt medium and small enterprises.
Related Topic: Fighting the issue of counterfeiting in India's pharma industry | Control Print, Joint Managing Director, Shiva Kabra's interview with the Times of India
Global outlook: Track and Trace (T&T) solutions in pharma
Product counterfeiting is one of the biggest threats facing pharmaceutical, biopharmaceutical, and cosmetic companies today. As a result, the implementation of track and trace solutions and technologies is an important strategy adopted by many manufacturing companies and regulatory bodies in recent years.
The Indian government has been trying to introduce QR codes since 2011, while Turkey became the first country to implement an end-to-end tracking system for its pharmaceutical supply chain in 2012. Researchers have found that low-to-middle income countries, such as India, and Africa, are more susceptible to counterfeit drugs than high-income countries, such as the United States.
According to the United States Trade Representative (USTR) report in 2019, around 20% of all drugs sold in India were counterfeit. The World Health Organization (WHO) assessed around 10% of all medicines are counterfeit worldwide, and this percentage is much higher (10% – 30%) in some of the African, Asian, and Latin American countries.
Research analysts from Markets & Markets predict the global track and trace solutions market is projected to reach $7.3 billion by 2026 from $4.1 billion in 2021, at a CAGR of 12.1%. The market growth has been attributed to the increasing rate of counterfeiting and the theft of healthcare products worldwide. Biopharmaceutical, pharmaceutical, cosmetic products, and medical device manufacturers are adopting track and trace solutions and protecting their products and brand equity. 
Growth in the application of track and trace solutions in the healthcare industry is greatly driven by strict regulations and standards for the implementation of serialization, growing emphasis of manufacturers on brand protection, increase in the number of packaging-related product recalls, high growth in the generic and OTC markets, and growth in the medical device industry.
The COVID-2019 impact highlighted the importance of traceability, standardization, and monitoring for effective management of people, supplies, and assets in the healthcare industry. The COVID-2019 outbreak has increased the risks posed by the international trade in counterfeit pharmaceutical products. According to the World Health Organization (WHO), a rising number of counterfeit drugs and medical supplies are on sale in developing nations along with an increase in fake medical products related to COVID-19.
Related Topic: The future of India's coding, marking and labelling industry | Control Print, Joint Managing Director, Shiva Kabra's interview with IIFL Securities
Why are Track and Trace (T&T) systems important?
The World Health Organization (WHO) estimates nearly $40 billion is lost each year to counterfeit products. Track and Trace is a system that applies to all industries – not just the pharmaceutical sector. It is a process of identifying, recording, and tracking all products from their production to consumption. It helps ensure that every product produced by a manufacturer has been correctly identified and tracked throughout its life cycle.
T&T allows you to trace the origin of your products back to the original manufacturer and enables you to identify any potential issues with the product before it reaches consumers. Track and trace systems can help ensure drugs are properly stored and handled and can help trace them back up the supply chain if they're recalled.
What are the different segments in Track and Trace (T&T)?
Technology
The track and trace solutions market based on technology is segmented into linear barcodes, 2D barcodes, and radiofrequency identification (RFID). Research analysts said, barcode technology held the largest revenue share of over 80.0% in 2021.
2D barcodes are the dominant segment of barcode technology and the increased application in pharmaceutical and biopharma product packaging has been a major driver for the higher revenue share. Moreover, 2D barcodes have greater storage capacity than linear barcodes and their popularity in the industry has increased the demand for 2D barcode-based solutions.
Government regulations and increasing counterfeit drug sales led to the adoption of barcode technology in the healthcare industry. For example, the Directorate General of Foreign Trade issued a notice announcing the execution of a track and trace system integrated barcode technology for pharmaceutical products exported from India since 2011. Thus, the demand for barcode technology has increased and is expected to remain high in the coming years.
Products
The track and trace solutions market based on products is segmented into software and hardware components. Research analysts declared, software solutions held the largest revenue share of over 50.0% in 2021 due to the growing adoption in healthcare companies, including pharmaceuticals, biopharmaceuticals, and medical devices. These software solutions are used for continuous management of manufacturing facilities, product lines, case and bundle tracking, and warehousing and shipping. Market growth is largely driven by the increasing awareness about secure packaging, the rising number of counterfeit drugs and related products, and growing awareness of brand protection. In addition, regulatory compliance is further supporting the growth of this market.
In the hardware systems segment, the printing and marking solutions segment held the largest revenue share in 2021. This system plays an important role in the production and supply chain to ensure the quality and authenticity of the products. Rising demand for serialization and the need to achieve regulatory compliance are fuelling market growth. Printing and marking equipment are expected to play a crucial role to meet the Drug Supply Chain Security Act (DSCSA) requirements by 2023. Moreover, advancement in coding and marking technologies such as Continuous Inkjet Printers (CIJ), Laser Marking Systems, Large Character Marking (LCM), and Thermal Transfer Overprinting (TTO) is expected to fuel market growth in the coming years.
Application
The track and trace solutions market based on application is segmented into serialization solutions; aggregation solutions; and tracking, tracing, and reporting. Research analysts stated, serialization solutions held the largest revenue share of over 55.0% in 2021 due to the increasing focus of regulatory bodies on the implementation of serialization in packaging and supply chains. In addition, the increased priority on patient safety and brand protection by manufacturers is expected to propel the serialization segment growth.
The tracking, tracing, and reporting segment is expected to also grow owing to the increasing number of regulations such as Drug Supply Chain Security Act (DSCSA), UDI, and Medical Device Reporting (MDR) for medical devices and pharmaceutical products.
End users
The track and trace solutions market based on end users is segmented into pharmaceutical and biopharmaceutical companies, medical device companies, the cosmetic industry, the food industry, and other end users, i.e., blood banks, nutraceutical companies, and clinical/research laboratories.
Pharmaceutical companies dominated the market with a revenue share of over 25.0% in 2021. The large share of this segment is mainly attributed to the high drug counterfeiting activity globally and the increasing focus on restricting the entry of counterfeit products in the pharmaceutical and biopharmaceutical supply chain.
Serialization is a crucial step to ensure safe product tracking and traceability across various entities within the supply chain. Currently, pharmaceutical manufacturers must comply with government regulations for track and trace solutions, which is fuelling the demand.
Final thoughts
With the pharmaceutical industry continuing to adapt to the new demands and increased need for supply chain security in India, manufacturers must equip themselves with the right track and trace systems to protect their brands while maximizing operational intelligence.
Track and trace are not an option anymore because it's a requirement for every pharma company that wants to do business anywhere in world. Simply put, not having a modern track and trace system is not a risk that is worth taking.
Control Print's marking and printing systems, as well as application-specific inks, and digitally enabled solutions are engineered to meet branding, labelling, variable product information, traceability, quality assurance, counterfeit protection, and packaging needs in the pharmaceutical industry.
For more details, write to [email protected] or call +91 8097466782 to book a demo.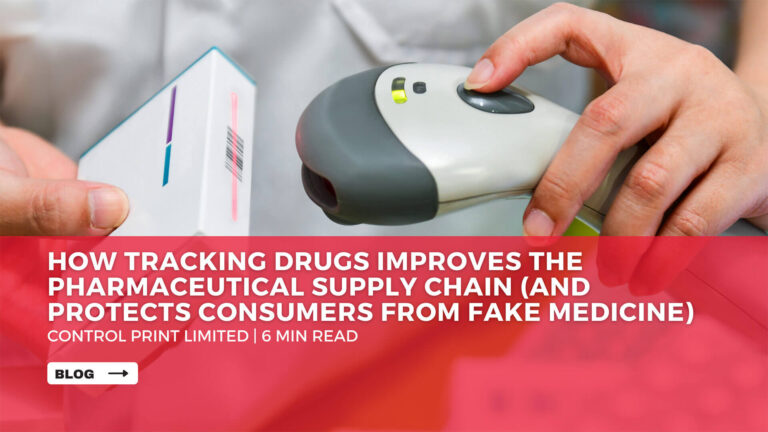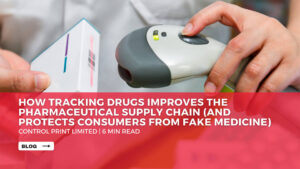 Track and Trace (T&T) systems allow manufacturers to track their...
Read More